Welcome To Camel Country
Bikaner Taxi Tour
---
---
---
Package Price
₹5,600 for Sedan
₹7,500 for Innova
Bikaner is home to one of the only two models of the biplane used by the British during World War I. They were presented by the British to Maharaja Ganga Singh, then ruler of the city. Another unique aspect about Bikaner is the sand dunes that are scattered throughout the district, especially from the northeast down to the southern area. Bikaner is situated in the northern region of Rajasthan. One of the earlier established cities, Bikaner still displays its ancient opulence through palaces and forts, built of red sandstone, that has withstood the passage of time. The city boasts of some of the world's best riding camels and is aptly nicknamed 'camel country'. It is also home to one of the world's largest camel research and breeding farms; as well as being known for having its own unique temple dedicated to Karni Mata at Deshnok, called the Rats Temple.
Bikaner Taxi Tour by Jodhpur Taxi Booking, we provide a smooth and stress-free Bikaner tour for you. No matter what your destination within the region and no matter what your plans are, Jodhpur Taxi Booking will get you where you need to be.
---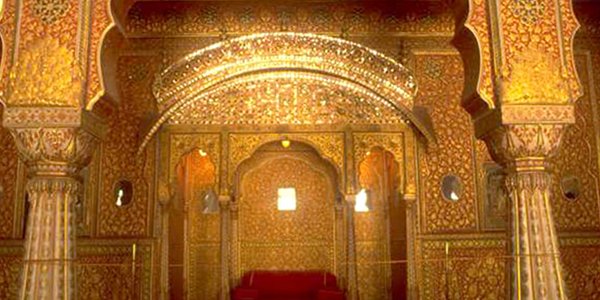 JUNAGARH FORT
Junagarh is an impregnable bastion that holds the distinction of having never been captured. It was constructed in 1588 AD by Raja Rai Singh, one of Emperor Akbar's most distinguished generals.The fort complex houses some magnificent palaces.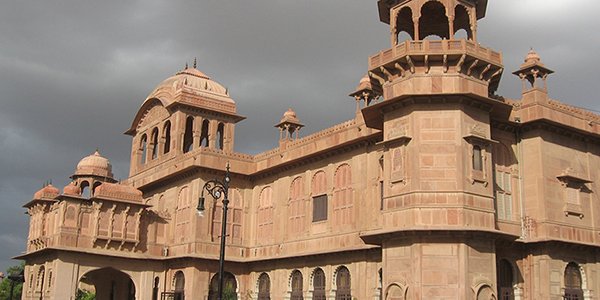 LALGARH PALACE
Maharaja Ganga Singh commissioned the construction of this majestic palace. This architectural marvel is made entirely of red sandstone and was built in 1902 to commemorate his father, Maharaja Lal Singh.The design by Sir Swinton Jacob.
GANGA GOVERNMENT
escribed as the best museum in the State, the museum contains a rich display of archaeological artefacts from Harappa and the early Gupta periods. There are separate sections for paintings, arts and craft, woven carpets, clay pottery.
---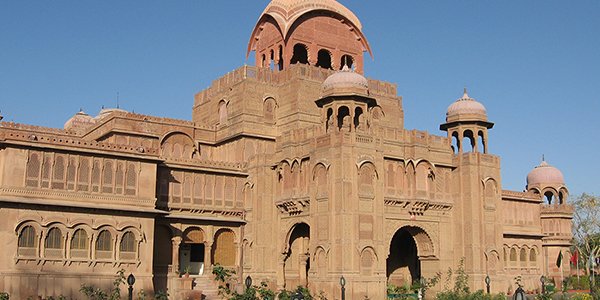 LAXMI NIWAS PALACE
Laxmi Niwas Palace was the residence of the king of Bikaner, Maharaja Ganga Singh. Built between 1898 and 1902 by British architect Sir Samuel Swinton Jacob, this structure displays an Indo-Saracenic architectural style. It is now a luxury hotel.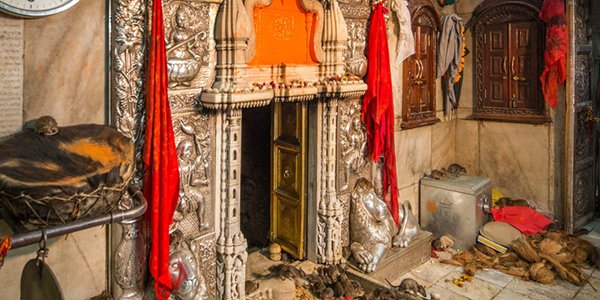 KARNI MATA TEMPLE
The Karni Mata Temple at Deshnok is a beautiful structure made of stone and marble, inside which resides an image of Karni Mata. The image is decorated with a 'mukut' (tiara) and garlands. The images of her sisters and the sisters of Avad Mata.
JAIN TEMPLE BHANDASAR
ain Temple Bhandasar is a 15th century temple dedicated to the 5th Tirthankar (a person that has conquered the cycle of life, death and rebirth and paved the path for others to attain nirvana), Sumatinathji, and is one of the oldest monuments of Bikaner.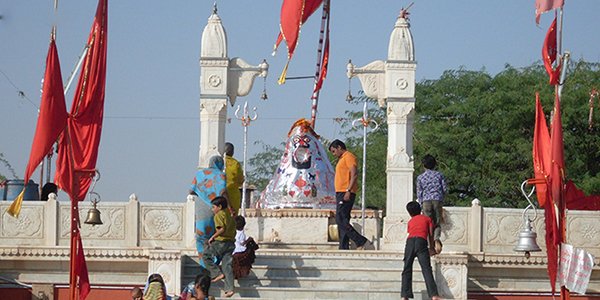 KODAMDESAR TEMPLE
24 kilometres from Bikaner is the Kodamdesar Temple. Kodamdesar Bhainru Ji was installed by Rao Bikaji sometime during the first three years of his arrival from Jodhpur. This place of worship was initially chosen as the site to lay the foundation of Bikaner.
SHRI LAXMINATH TEMPLE
The rulers of Bikaner regarded Lord Laxminathji (Lord Vishnu) as the real king of Bikaner and themselves as his Deewans or Ministers. This temple, made of marble and red stone, was constructed to enshrine Lord Laxminath whose throne rests here.
SHIV BARI TEMPLE
Located just 6 kilometres from Bikaner, this Shiva temple is fortified by a high wall. It was commissioned and built by Maharaja Doongar Singh in the 19th century to commemorate his father Maharaja Lal Singh.The highlights of this red stone temple.